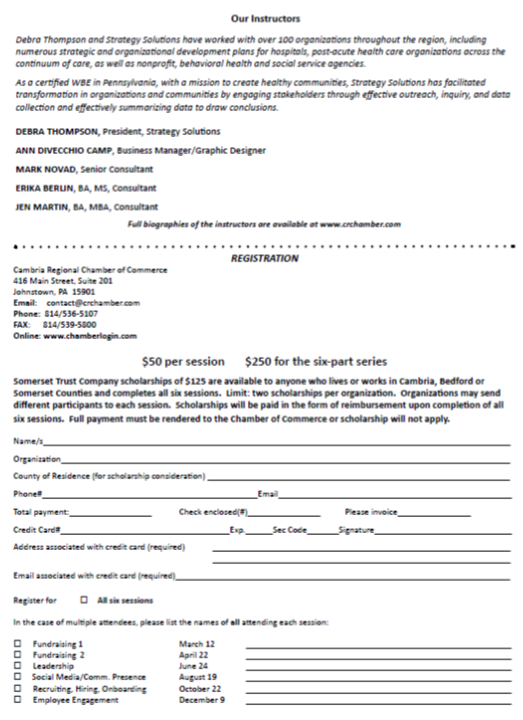 2020 Bosler Academy – Full Course Descriptions
The Cambria Regional Chamber is interested in building nonprofit board and staff leadership capacity to improve the sustainability of the nonprofit sector throughout the region. The Standards for Excellence in Nonprofit Ethics and Accountability® outline the following guiding principle related to board and staff leadership:
Guiding Principle: Nonprofits depend upon effective leadership to successfully enact their missions and programs. Effective leadership consists of a partnership between the board and management, each of which plays an essential role. Understanding and negotiating these shared and complex elements of leadership is essential to the organization's success. A nonprofit's employees and volunteers are fundamental to its ability to achieve its mission.
Board members are in a position of trust to ensure that resources are used to carry out the mission of the organization. An organization's board leadership should consist of volunteers who are committed to the mission and who demonstrate an understanding of the community served. An effective nonprofit board should determine the mission of the organization, establish management policies and procedures, assure that adequate human and financial resources are available, and actively monitor the organization's allocation of resources to effectively and efficiently fulfill its mission.
Nonprofits should also have executive leadership which carries out the day-to-day operations of the organization, ensures financial and organizational sustainability, and provides adequate information to the board of directors. An organization's human resource policies should address both paid employees and volunteers and should be fair, establish clear expectations, and provide meaningful and effective performance evaluation.
While most people would say "yes, these things should be true about nonprofit boards and leadership," in practice many boards and management teams lack sufficient training and understanding to know how an organization embody these principles and apply these standards in their day to day operations.
This training series offers the opportunity for board members and executive leadership of regional nonprofits to learn more about how to better lead, govern and manage their organizations.
Course Descriptions
"Increase Your Fundraising: The Courage to Make a "Case for Support"

Many nonprofit organizations want to increase their fundraising, but don't put the time and energy into "making the case" that will compel donors and funders to "invest" in their programs, services and the organization overall. This workshop encourages participants to challenge assumptions and get past your "immunity to change" with your fundraising strategy. Participants will:

Understand how the economic environment is impacting the nonprofit sector and how to identify opportunities despite current challenges
Identify methods to quantify the case for support to increase your major fundraising efforts:

Articulate the long-term vision for your organization and programs
Identify and quantify the compelling community need(s) your mission address(es)
Understand the "true" costs associated with the program(s) that you are attempting to fund
Develop a "case for support" that describes the "return on investment" associated with your program(s) and/or organization

"Increase Your Fundraising: Implementing Effective Grantsmanship"

Incorporating grantsmanship into your fundraising portfolio is not simply about writing a grant. Effectively positioning your organization to attract funding through grant writing requires strategic thinking and orchestration. Participants will learn about the "infrastructure" required to successfully procure and manage grants as well as strategies to improve your chances for grant writing success. Participants will:

Understand the internal functions and systems that support successful grant writing including project management, program development, outcomes measurement and management, as well as collaboration and partnership development.
Learn how to identify, research and develop relationships with grant sources that are a good "mission match" for your program(s) and/or organization.
Identify the critical success factors for successful grant writing.

"Increasing Your Social Media (and Community) Presence"

"Who are our target audiences, what do we want from them and what do we need to communicate to them?" are the questions that we should be asking (in that order) whenever we start thinking about public relations, marketing or social media campaigns. Effective outreach and social media campaigns incorporate branding and marketing into strategic communications, targeted to specific groups to achieve desired outcomes. Participants will:

Understand the elements of market positioning and the critical success factors in "building a brand"
Outline key target audiences and identify key messages to create the foundation of a communications strategy
Learn strategies to implement your marketing and community relations and maximize the benefit of social media in your marketing mix.

"Leadership in the New Decade"

In this new decade, with the complexity of our world and its changing demographics, effective leadership is critical to organizational sustainability. Today's leaders must have highly developed skills in various disciplines, especially in workforce development and human resources management, to be effective in today's environment. Participants will:

Assess their personal leadership skills and identify strategies to grow their leadership competencies and fill functional gaps
Learn strategies to value differences to effectively work and communicate with various generations, including critical success factors in achieving and managing employee diversity
Identify and implement strategies to improve and ensure individual leadership effectiveness.

"Effective Recruiting, Hiring and Onboarding: How to Compete in Today's Job Market"

Beginning in 2018, the US had more job openings than unemployed individuals and the trend continues. How does a nonprofit compete in this job market? In the short run, differentiating our mission and focusing on improving our recruiting, hiring and onboarding efforts can make a difference. Over the long run, nonprofits will have to look more strategically at overall organizational structure in order to be sustainable. This workshop focuses on short-term strategies that can be implemented to improve your recruiting, hiring and onboarding within the context of longer-term thinking. Participants will:

Understand best practices in recruitment, hiring and onboarding staff to facilitate employee engagement and retention
Discuss the role(s) of technology, human resources and hiring managers in supporting recruitment, hiring and onboarding
Explore the role of organizational culture as a recruitment and retention tool.

Employee Engagement and Talent Management

In today's world, less than 40% of employees in most companies are fully engaged. Understanding how to effectively engage and manage talent is a critical success factor in organizational sustainability. Participants will:

Understand best practices in talent management and methods to incorporate key components of talent management into your organization
Learn the role of supervisors and managers in supporting employee empowerment and engagement along with the training and support required to enable them to be effective in supporting talent management
Identify methods to prioritize and implement your talent management support investments.
Staff Structure
Debra Thompson and Strategy Solutions have worked with over 100 organizations throughout the region, including numerous strategic plans for hospitals, post-acute health care organizations across the continuum of care, as well as nonprofit, behavioral health and social service agencies.
As a certified WBE in Pennsylvania, with a mission to create healthy communities, Strategy Solutions has facilitated transformation in organizations and communities by engaging stakeholders through effective outreach, inquiry, and data collection and effectively summarizing data to draw conclusions. We facilitate adoption of best practices in organizations through a do-teach-coach model and offer training and support for those who wish to 'do it themselves." We create a commitment to action through consensus building by identifying specific human, capital and operating resources required to achieve tangible outcomes and assessing the capacity and capability of individuals and teams to accomplish assigned objectives. We also identify technical competency gaps to ensure implementation.
DEBRA THOMPSON, BS MARKETING, MBA
Deb will be the primary trainer and will co-present with other Strategy Solutions' staff and consultants.
Debra Thompson is President of Strategy Solutions. In this position, she provides strategic planning facilitation, training and planning, research and project management services to organizations and communities. Debra is also an adjunct faculty member at Duquesne University where she teaches organizational development and program development/evaluation in the Master of Organizational Leadership program. She was also an adjunct professor at Gannon University for 10 years where she taught Strategic Planning, Research Methods and Program Development. She is a certified trainer, consultant and peer reviewer for both the PA and National Standards for Excellence in Nonprofit Ethics and Accountability® and a member of the National Standards Council, where she helps to set policy for the standards and approve accreditation applications for organizations across the country.
Deb received her Master of Business Administration from Gannon University. She has also completed advanced training in Strategic Planning, Quantitative and Qualitative Market Research, Total Quality Management and Leadership Development, Systems Thinking & Facilitation (through affiliates of MIT). She has 20 years' experience teaching at the Master's Level at Gannon and Duquesne Universities.
ANN DIVECCHIO CAMP, BUSINESS MANAGER/GRAPHIC DESIGNER
Ann serves as Marketing/Business Manager for Strategy Solutions. In this capacity, Ann provides marketing support for Strategy Solutions including the webinar/training schedule, social media, and the company newsletter. She also provides research and coordination support for client projects. She is also the company's graphic designer.
Her accomplishments include conducting primary research to support client projects including data entry, survey design, analysis in SPSS, graphing results, report drafting, presentation preparation, and project tracking for nonprofit and community services clients. She has worked extensively with 6 industry partnerships including healthcare, metals, plastics, building and construction, food processing and electronics manufacturing/services. She also conducts secondary research via web searches, journal searches, phone contacts, etc. in support of nonprofit and community services projects as well as company and other client project needs. Her graphic design capabilities make Strategy Solutions' reports more appealing and attractive.
Prior to this experience, Ann served as the Manager of the European Wax Center franchise in Erie where she was responsible for all aspects of managing the store opening including building construction, hiring, training, scheduling, managing and evaluating staff, marketing, and overall business management. She also spent several years in progressively responsible positions at Beaumont Plastics within Marketing and Finance. Earlier in her career she was Project Coordinator, Nonprofit and Community Services at Strategy Solutions. Ann has completed studies as a Speech Communications major at Edinboro University.
ERIKA BERLIN, BA, MS, CONSULTANT
Erika Berlin is a passionate and creative leader with more than 15 years of experience developing communications, education programs, and technology products in nonprofit, start-up, and corporate organizations. As a consultant for Strategy Solutions, Erika provides leadership and project management to support client initiatives, including organizational development and training, program development and implementation, marketing and communications strategy and implementation, and fundraising campaign strategy and support.
Prior to joining Strategy Solutions, Erika was a member of the executive team at Larson Texts. As Vice President of Technology, she led digital product development for the Big Ideas Math K-12 programs, including the strategy, planning, team coaching, and budgeting for the software development lifecycle. She engaged cross-disciplinary teams, research methods, industry trends, and market opportunities to inform product strategy. Erika is also the founding Board Chair of the Film Society of Northwestern Pennsylvania, where she has helped shape its strategic direction and programming.
Erika earned her undergraduate degree in Communications and Media from Penn State University and began her career in communications, training, and curriculum development for The Ophelia Project, a nonprofit dedicated to creating safe social climates in schools. After earning a master degree in Learning Design and Technology from Stanford University, Erika established pedagogical standards and led communication strategy for Togetherville, a lean start-up founded to create a safe social media platform for children and their parents. As Director of Program Development for Clover Technologies, Erika launched new education programs and marketing initiatives to increase awareness and participation in e-waste recycling programs across the United States.
MARK NOVAD, SENIOR CONSULTANT
Mark E. Novad has more than 25 years of experience focused on the areas of business operations and human resources. He has held global executive leadership positions at Intel Corporation, II-VI Incorporated and most recently with Education Management. Mark has served on multiple boards of director and as a board advisor. He earned a BS in Journalism and Telecommunications from Arizona State University.
Mark's expertise lies in all aspects of business operations, specifically the identification and resolution of employee and organizational issues. He has a proven track record of developing effective strategy and managing tactics for successful implementation and process improvement. Mark has extensive experience in the areas of compensation, benefits, Human Resources Information Systems, employee communications, organizational restructuring, change management and operational improvement in both publicly-traded, privately-held and not-for-profit environments.
The majority of Mark's career has focused on process improvements to position businesses for success, His overriding philosophy is to develop a passion and respect for companies' most valuable assets – their people. Mark has been intimately involved in the design and implementation of strategic and tactical programs focused on qualitative improvements benefitting both the company and the employee. His experience and expertise is most prevalent in the following areas:
Organizational/Functional Analysis and Restructuring
Program Development and Staffing
Risk Mitigation Strategies and Programs
Executive Coaching
Developing High Performance Teams
Employee and Leadership Development Programs
Performance Management Programs
Recruitment and Retention
Compensation/Reward Programs
Employee Communications
Employee Relations
Benefit Program Design and Development
JEN MARTIN, BA, MBA, CONSULTANT
Ms. Martin has worked as an independent consultant since 2003. Her organizational experience includes strategic planning, organizational development, program evaluation, economic studies, reporting, grant writing, grants research (identification of funding sources, grant writing and submission of grant proposals) and business development for non-profit and for-profit businesses. As a women-owned small business (registered under the GIS small business repository, SAM, and other agencies as a EDWOSB), the business is able to provide scientific, technical, and management expertise, and related services involving research and demonstration projects, evaluation studies, strategic planning, program assessments, development, and support in the execution of activities for a variety of non-profits including hospitals, health care organizations, social services, education and scientific businesses.
Business planning and small business support is an area of significant experience, particularly with small start-up organizations. Economic data analysis (jobs and community analysis) are routinely completed for clients that require a business plan with economic forecasting and action steps for community leaders. Grant seeking, writing and proposal are strengths, with innovative strategies to match local, state, and federal funding sources. Ms. Martin has been a consultant for several CMS funded projects in health care (bundled payment program for hospitals) and is a federal grant reviewer.
Ms. Martin was involved in several initiatives for a multi-hospital collaborative to improve care and resources for care coordination through the CMS Innovation Center and has secured grant support for a variety of hospitals and health care consortiums. She has recently served as a presenter to the American Telemedicine Association, Tele-rehabilitation SIG, in collaboration with The TeleMental Health Institute, CEO, and UKMC Director of Center for Telemedicine & Telehealth. In 2016-2018, Ms. Martin was an external reviewer of proposals for the National Council on Behavioral Health, IDIQ bidding (also RFP, RFQ), and was a bid reviewer for a federal contract opportunity (reviewing documents, data, tables, budgets and in-text editing). Her experience includes funding awards for clients that have included telehealth, telemedicine, economic development, transportation, social services, housing, scientific research, education, and overall health services.
In Behavioral Health, Ms. Martin was a project leader for HRSA awarded projects ($1.5M)- A Rural Opioid Overdose Reversal (ROOR) grant and Rural Health Opportunity Grants (RHOP) to integrate a behavioral health and primary care services for opioid abuse and substance abuse services in collaboration with community providers, emergency responders, and referrals to behavioral health case management. In children's behavioral health, she coordinated the Children's Health Integration Network (CHIN), to improve linkages between primary care and behavioral health care in rural underserved areas.
In education and social services, Ms. Martin has worked with Intermediate Units for school district systems in Pennsylvania to secure funding from the U.S. Department of Education. She has also helped fund several school-based wellness and educational grants from foundations and local non-profits to promote K-12 programs. Ms. Martin has written a highly scored grant to the U.S. Department of Education from Intermediate Unit 5 (IU5) that covers a 13- county region of school districts in western Pennsylvania.